Vanlife stories
10 février 2021
Artists on the road : The vanlife of Cora & Jose
Art is like a bridge that allows us to find a common ground beyond opinions that divide people. 
Today, Vanlife stories are back on the road, but not to take you anywhere. We are going on a trip this time to the United States, to meet Cora and Jose, a young couple of vanlifers who have converted one of these famous yellow American buses into an art and recording studio with the aim of sharing their passion for art and music with people they met on their way from Alaska to Argentina!

So this is an artistic journey that we are embarking on.

Cora is a musician. She writes, composes and performs music created from sounds captured during her travels in the Americas. She also recorded an album with other musicians she had met by chance on the roads, mixing genres and sounds.
Jose captures photographic portraits highlighting the unity of Mankind and the diversity of cultures, and also creates paintings inspired by their travels.
Together, they produce a series of experimental films inspired by their explorations and regularly host collaborative mural painting workshops with the communities they meet on their way.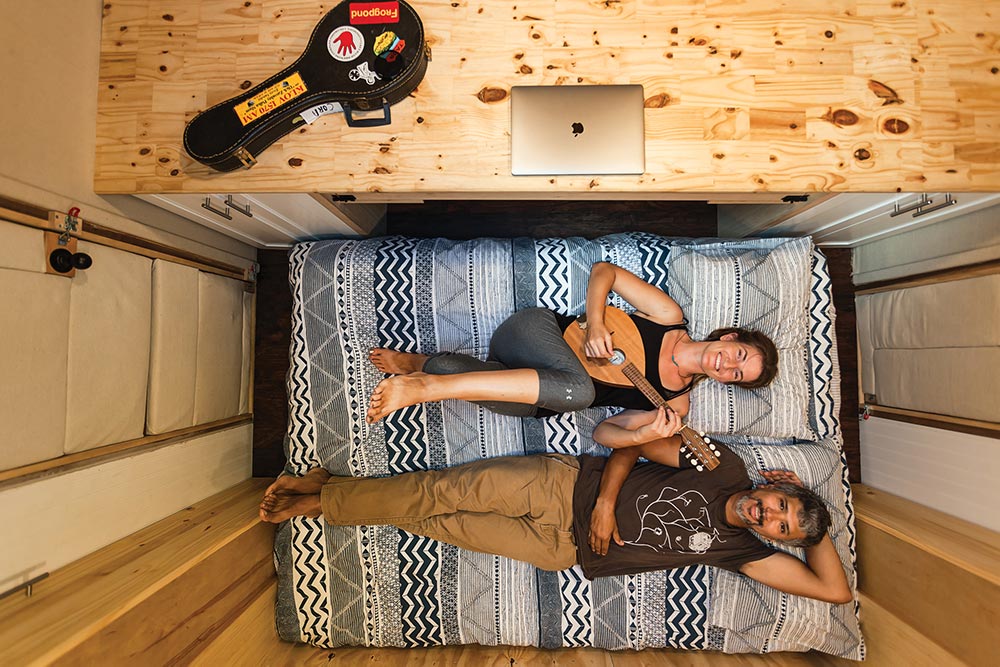 At the crossroads between different arts, Cora and Jose are at the origin of the project Art We There Yet, which aims to use art to illustrate the sharing of cultures, and the richness of humanity, for sure!
Discover this interview with an atypical couple with a grandiose project, all driven by the desire for travelling and meeting others.



Cora was born in the North of the United States, near the Canadian border. While she developed a passion for music from a young age, she also had a strong interest in studying and understanding the world around her:
"I've always been a musician. I've been playing and writing music since I was little. I started playing professionally when I was 12. But I also had a little more formal education. I have a bachelor's degree in International Economic Development. I worked as a teacher and also had experience in criminal justice. At the moment, I am in the process of obtaining another degree in geography science. Although I am a musician, I am also very interested in the natural world that surrounds us but also in its sociological dimension.
So it was this interest as well as my attraction to traveling that took me to China where I met José."
Jose was born in Nicaragua, in Central America, in common contexts of revolution and poverty, which did not prevent him from pursuing his dreams and his desire to travel:
"He grew up in El Sauce, a very poor little town, his family didn't have much money. But in a way, he always developed an interest in travel, music and the arts. When he was 17 he was able to move to the United States, then he managed to enter the National Institute of Arts in Chicago at 28 where he graduated in Fine Arts. Now he is fulfilling his dream of discovering the world he had as a child in Nicaragua. He has visited 70 countries, always with a camera - he truly exploits travel as an artistic practice."
It is therefore in China that their common passion led them to meet:
"Jose and I met in China by chance. We started dating there and that's when he told me about this crazy idea that he had in high school 8 years earlier, to buy an American school bus, to convert it to a recording studio and to travel with throughout all the countries of the American continent. And finally, we managed to make this project a reality together!"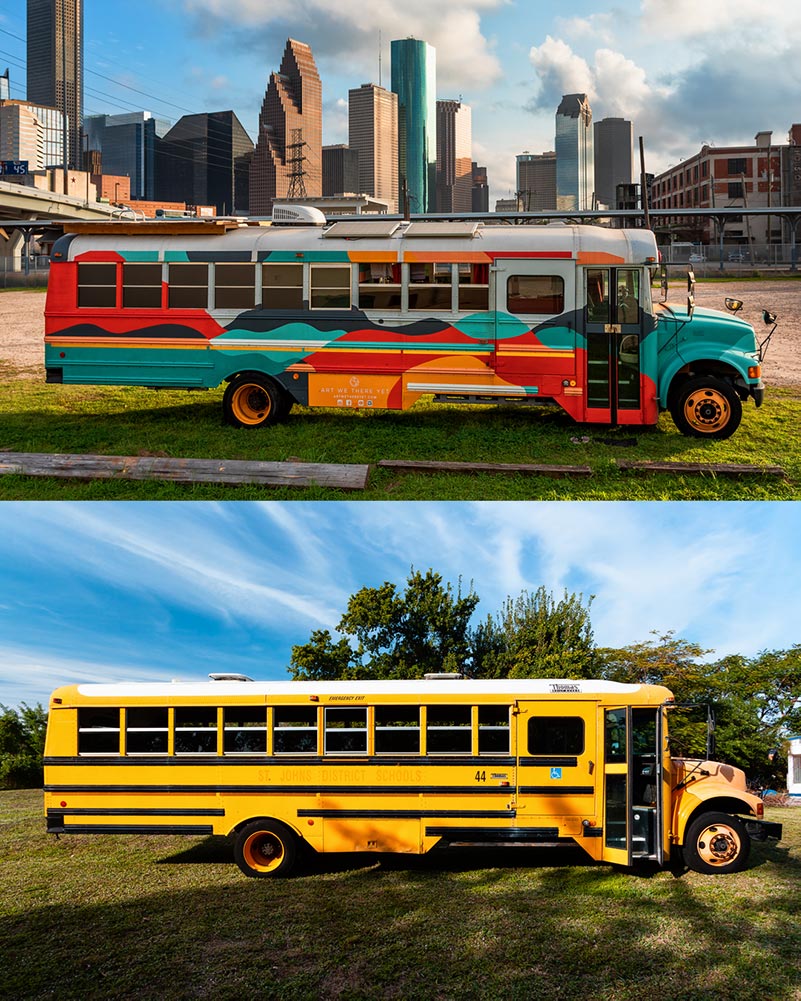 Between the original idea and its implementation, there is only one step. Without a second thought, our couple of determined vanlifers undertakes the realization of their project and the establishment of crowdfunding:
"It was when we left China and our apartment that we saw it as the start of the project for us. It took us a year to build the website, to prop up the concept, and to get all the funding needed to buy the bus. It took a lot of work and a lot of planning to create a crowdfunding that was effective and allowed us to have the money to buy the bus."
While it took a year to convert the bus (we'll get to that in detail a bit later), it's not without challenges that Cora and Jose have been traveling on American roads for a few months now:
"We were supposed to start our trip last summer but had to postpone it due to the current situation, until next summer… We also had a lot of planned events that were canceled, like meetings with children in schools… we must therefore adapt for the moment."
The Covid-19 pandemic has really turned our plans upside down for the moment.
To adapt themselves, Cora and Jose multiply collaborative workshops to produce murals throughout their travels. Workshops that Cora enjoys:
"One of the only things we can do at the moment is wall painting. It is collaborative work that is built around the community. We can be called upon by schools, institutions, or even coffee shops, as is currently the case. We really like to meet these groups of people who help us to create these murals which above all make it possible to create a bond and to familiarize people more with artistic creation."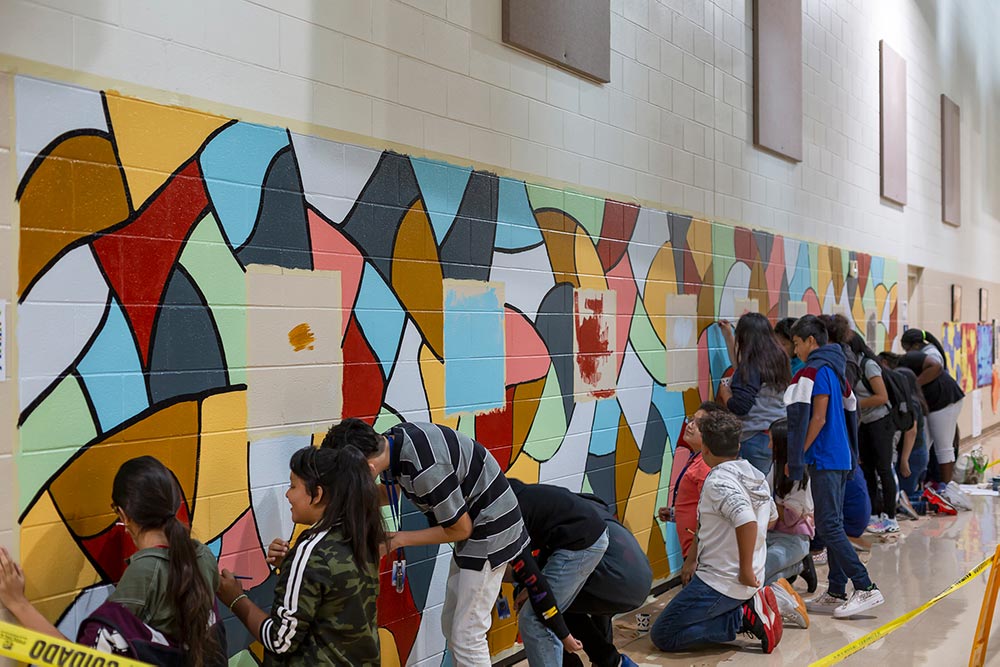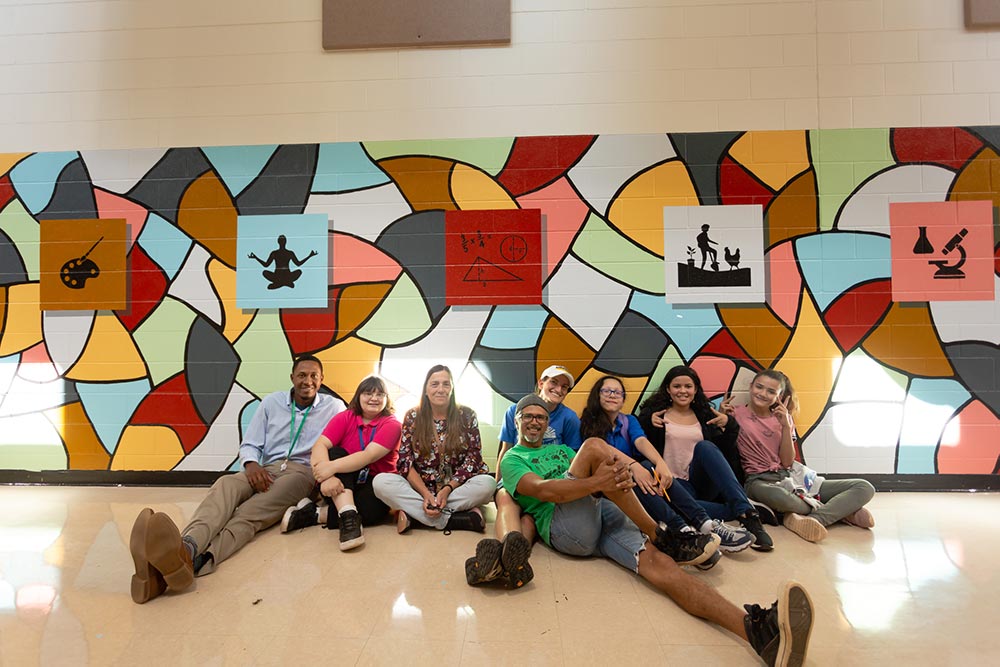 If the implementation of the project reveals many positive aspects for our two vanlifers, they have nevertheless underestimated the time-consuming side of certain administrative aspects which therefore push them to reconsider the time they devote to their artistic creation, to their great regret:
"At the start of our project, we were very ambitious. We thought we might be able to handle the project administration and artistic creation in a day (laughs).
So now we are learning to reduce what we thought we could do in order to focus on the things that have the most impact, like murals for example."
When it came to convert their school bus, there too were many challenges that Cora and José had to overcome:
"The first step was destruction. We have removed absolutely everything from the interior, including the ceiling, wall and floor covering. The idea was to find the basic metal skeleton. It took us a long time as you can imagine. The next step was to put a cap back on and make it completely waterproof. It was very important for us to avoid any water leakage because when you are building it is difficult to go back.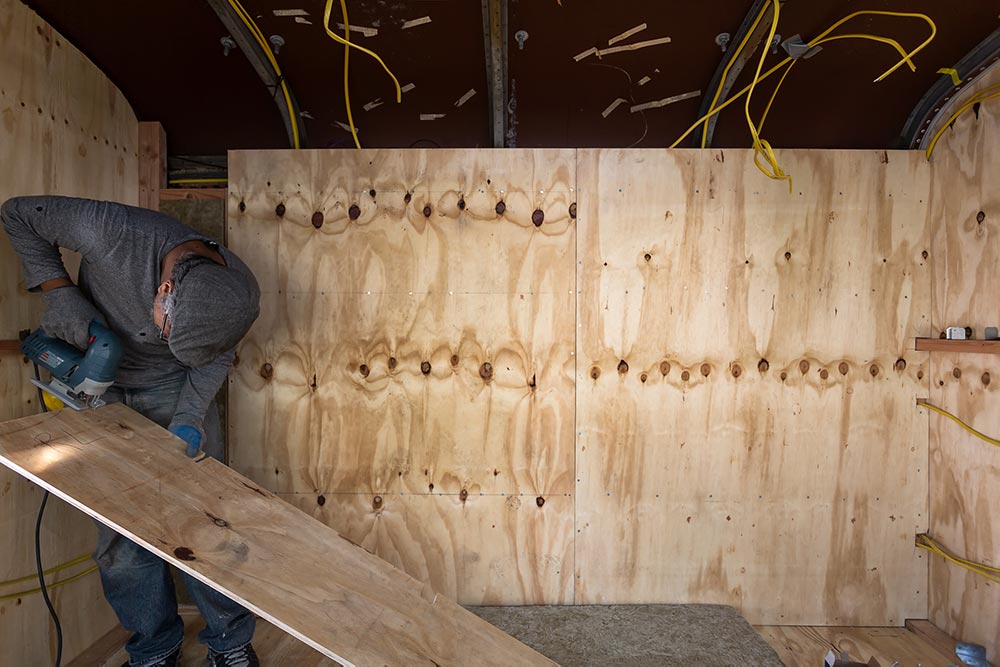 Then we installed new flooring. Surprisingly, this step took almost a whole month to complete when it was just a simple rust remover and preparation for the floor application. Again, this step was very important for us, to be sure that the floor will not rust.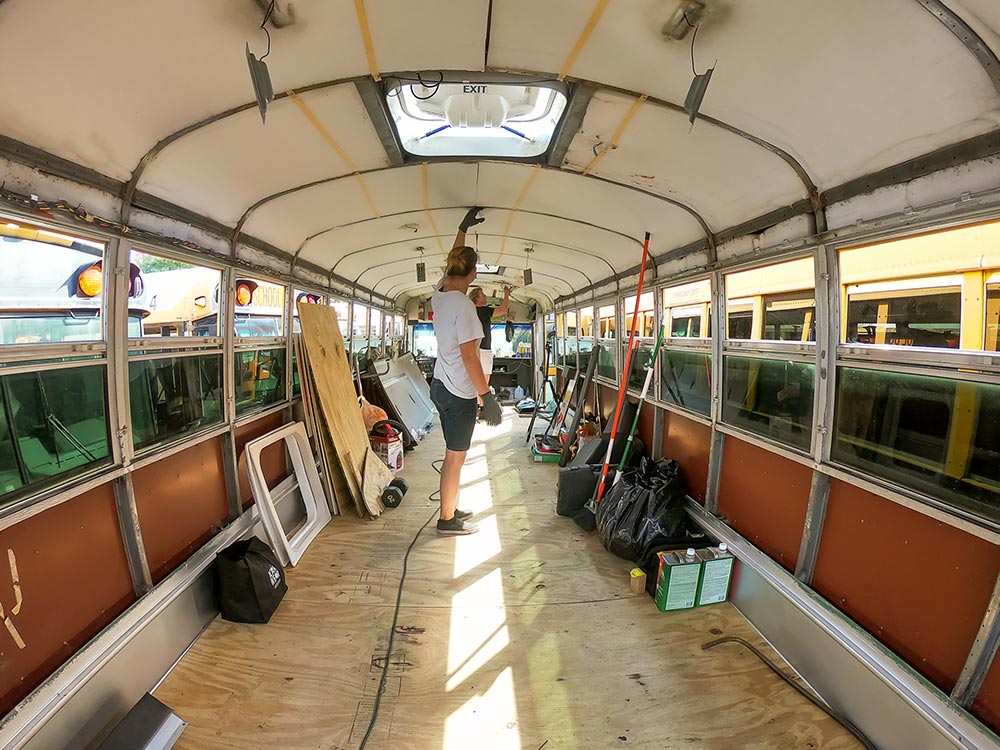 After completing all of these steps, we were finally ready to begin planning the interior living space and installing the solar panels.
Even though these first steps took a long time, we are very happy to have taken our time and to have done all the necessary steps so as not to have any problems afterwards.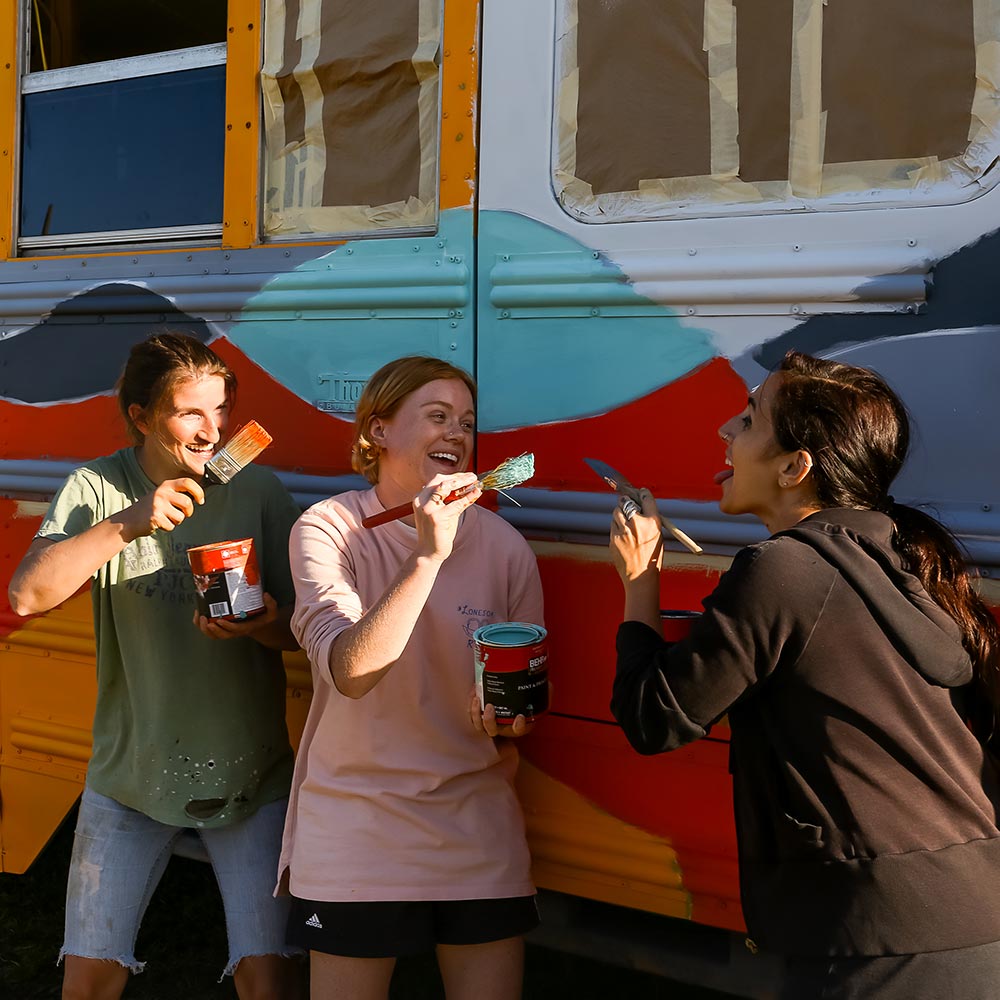 We thought it would have taken us three months to fit out the bus, it actually took us a year. Every day we discovered new things we needed to do. So, it was very stressful for us for a budget issue and also because of the time allocated to the construction because we wanted to get on the road quickly.
We had to learn to be flexible and to accept the time the conversion would take.
In addition, the conversion cost us more than we expected. Fortunately, we no longer have the same pressure now that we are on the roads.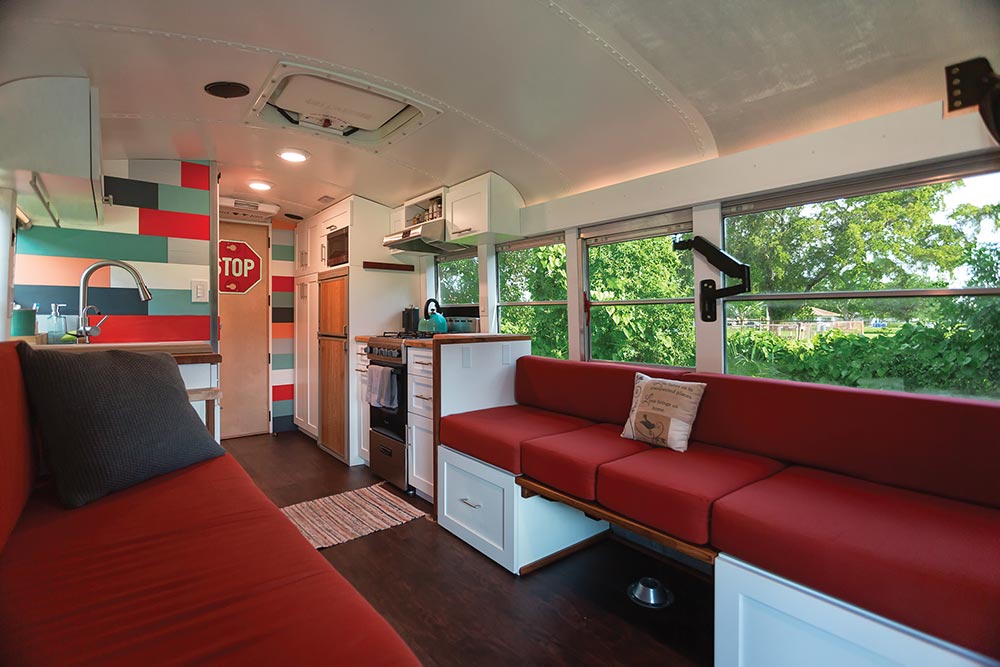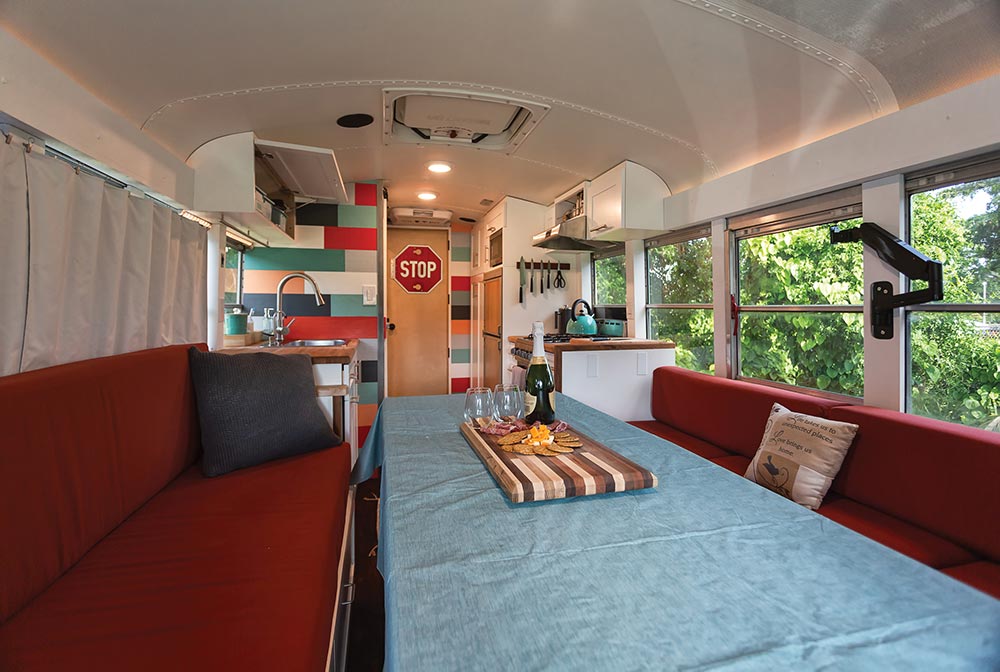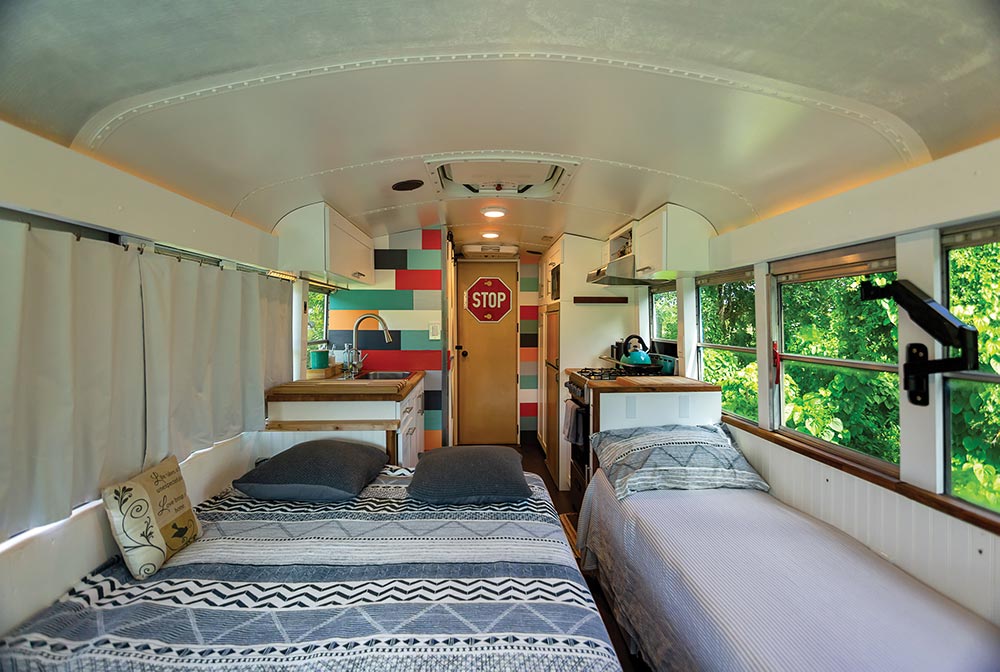 I think the pressure was coming more from those who supported our project. We had an obligation of means and results because on social media, people only see glimpses, certain times of the day, but not all of the work we do. So for us it was really important to show them that we were doing things, that we were active!"
Beyond these very formative challenges, it is above all the multiple meetings, each more incredible than the next, that Cora and José keep in mind:
"Earlier this year, just before the pandemic, we left the border with the United States for Mexico. There is a refugee camp that is established all along the border, with very poor living conditions. We went there and we did painting workshops with the children of the camp. And the first day we went to the camp, we walked across the border with a backpack full of painting supplies and entered the camp. The first person we met was actually from Nicaragua, like José, and they knew people in common. Nicaragua is a small country, but it's still amazing! There are things like that that happen to us all the time. You can never predict what's going to happen ... and that's the beauty!"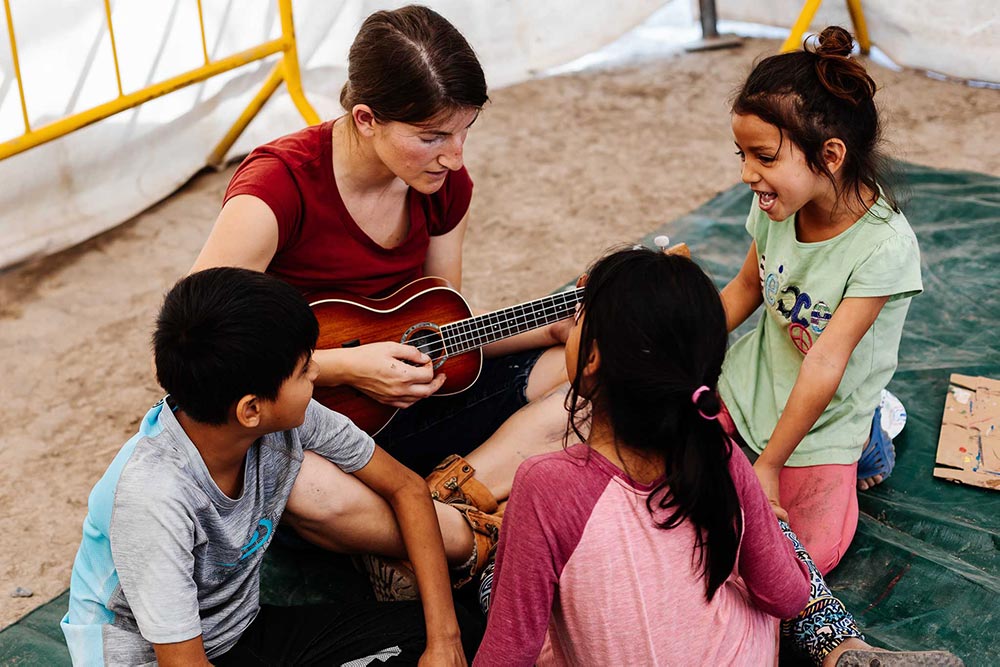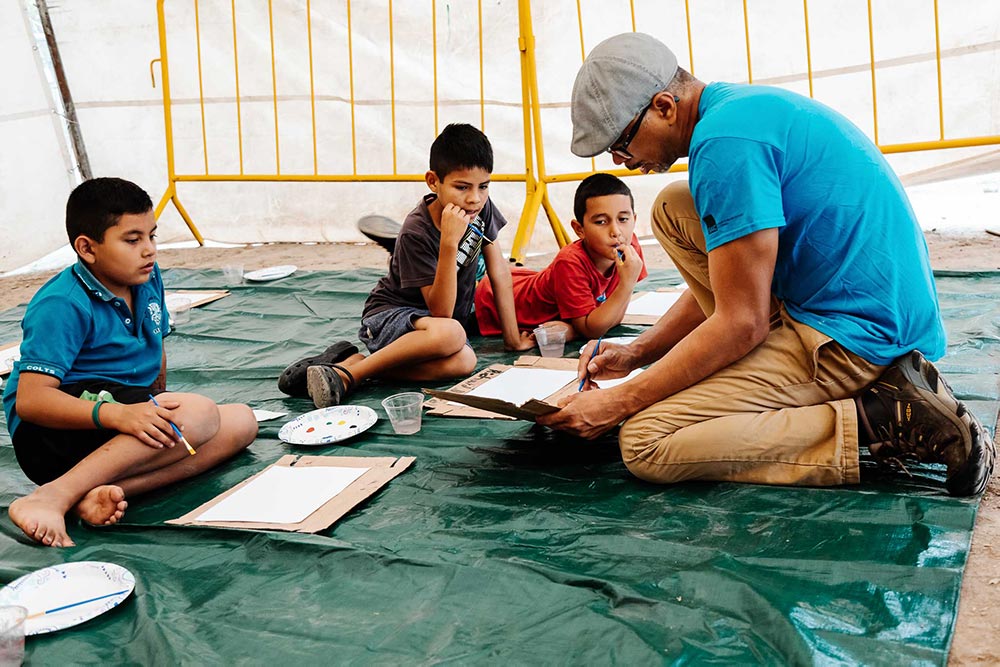 It is with a very communicative optimism that Cora and José have a credo of making art accessible to all, and are all the more carried by the multitude of people they meet on their way:
"We hear all the time people telling us that the world needs more of these types of initiatives, and especially in this election time in the United States because there are very deep divisions. People are really tired of politicians and very tired of the fights that tear us apart.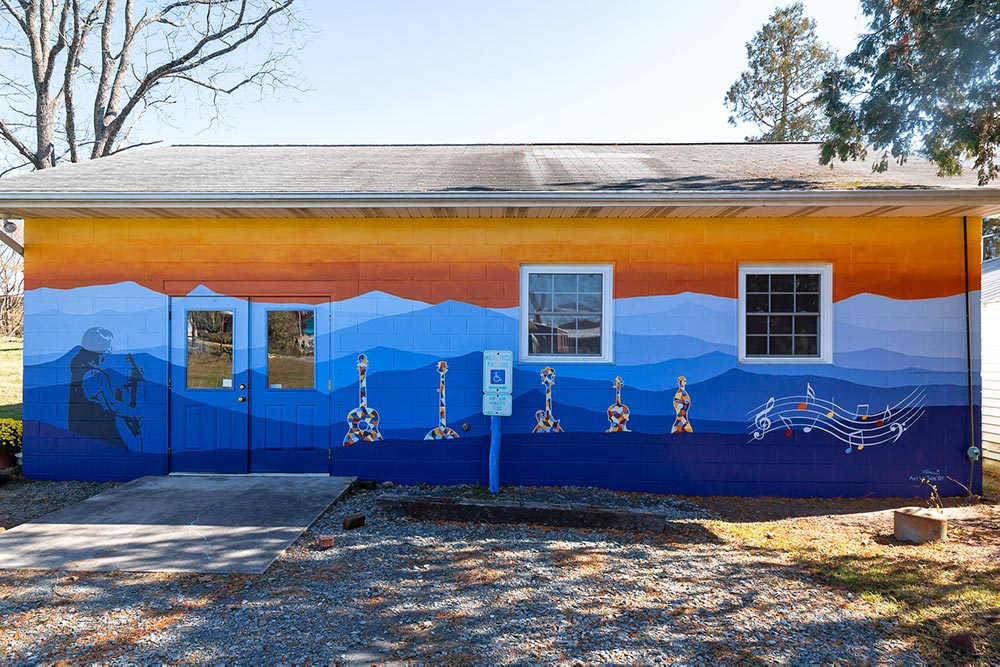 Art is like a bridge that allows us to find common ground beyond opinions that divide people. This is very precious, and the positive feedback we have only made us want to continue to share artistic creation with our colorful bus across the Americas."
To end this artistic journey, Cora shares with us one of her favorite song, Never come back again, by Austin Plain, and explains the reason for this choice:
"This song is the soundtrack of our journey. It's a song about the importance of traveling, of having the courage to pursue your dreams and to find your love. This is exactly the kind of song you should listen to as you drive down the road on your way to your next adventure!"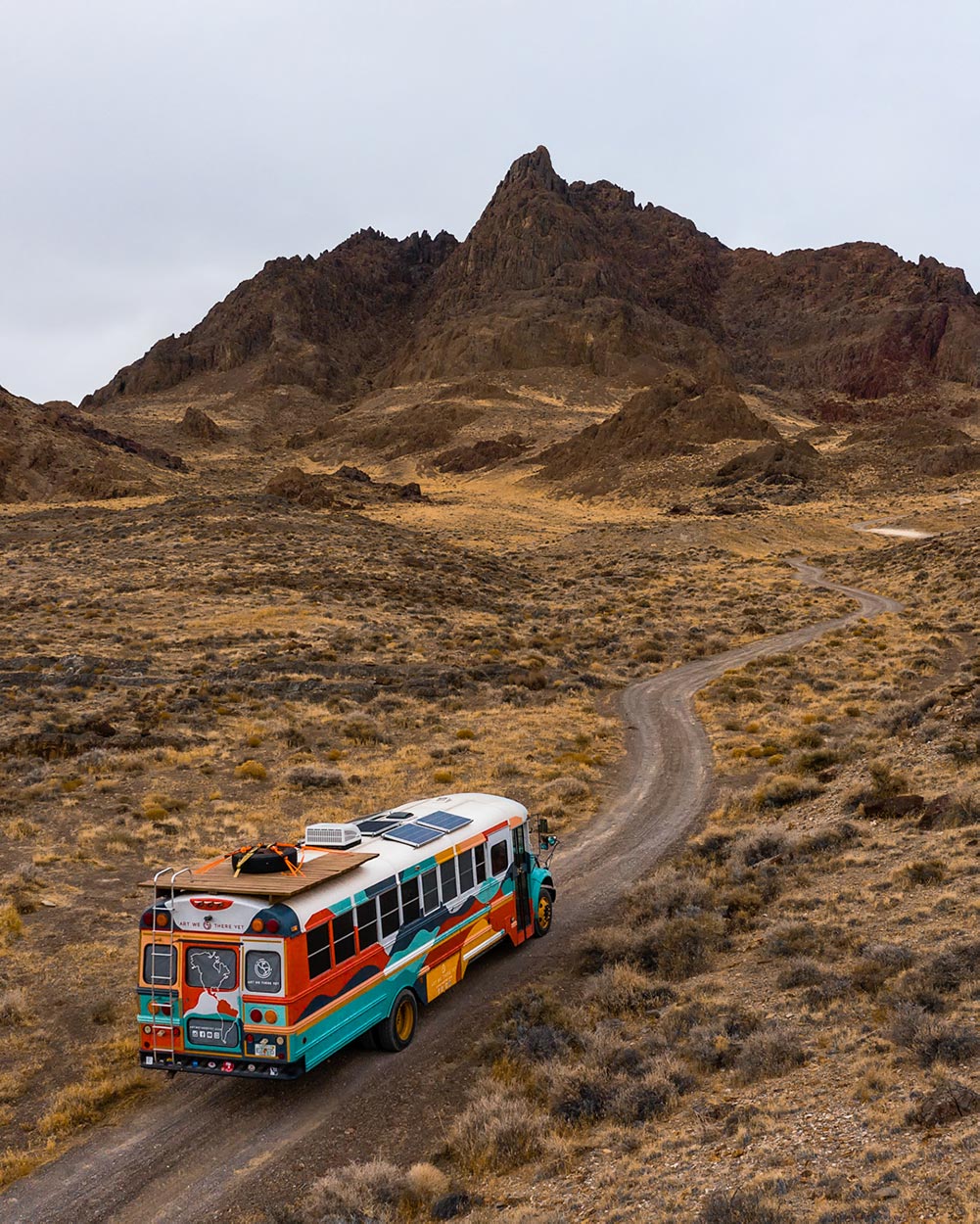 Do not hesitate to continue the adventure with Cora and José aboard their colorful bus by following them on their Instagram account @art_we_there_yet, on their other networks or by supporting their project via their website artwethereyet.com.


Pictures from Art we there yet 
Editor : Vivien Cocquet-Huard